i've been a woman of few words lately. highly unusual for me. enjoy it while it lasts, people.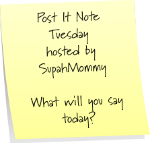 here's the weekly installment of PINT, brought to you by the coolest mom. no wait. the most supah mom. go check out the other post its. people can be so clever. (not that i'm including myself with that this week)
and if i can make a post it, anyone can. seriously. go
here
.