you know the drill. it's tuesday, and you know what that means!
i get to work out all my frustrations on a post it. i think it only took me 22 of them today.
c'mon, you know me. i'm rarely short-winded.
so on we go. thanks to
supah
for hosting PINT.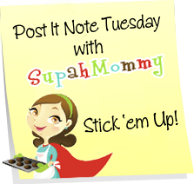 there's an ongoing invitation to head over there. you may not want to see anyone else's, but supah is worth it. don't know where she comes up with stuff every week.
and make your own post its
here
:
on to the notes: